CTI Client Professional
CTI Client Professional
Product Code:
PROG-0055
Availability:
Please Login
CTI client is a software application for Asterisk™ Soft/PBX systems that enables you to control your IP telephone device directly from your workstation's desktop PC, simply by a mouse click. By Adaptable Data Binding and Interworking functions, CTI Client optimally adjusts to all available software environments offering great user flexibility, enhancing business productivity. You can connect CTI Client with an Asterisk™ Soft/PBX system as well as with a number of IP telephone devices supporting TAPI / IP PBX such as Yealink, Grandstream, Gigaset DX and more. CTI Client can also be connected with other applications like Skype™ and Zoiper™ (IAX Client).
Supported IP Phones:
Grandstream: GXP21xx series IP Phones & GXV3240 IP Video Phones
Htek: UC92x series IP Phones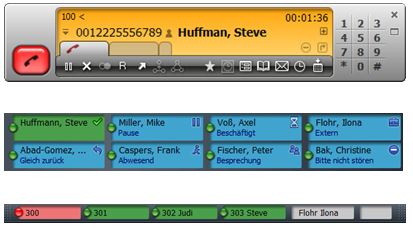 The application offers a smart and flexible user interface through the Phone Dialog window. You can customize the size and the display of information (Window Management) regarding the control and monitoring of the connected IP telephone devices and users status (Presence Management). It enables you also to create an unlimited number of Speed Dial Keys as well as Speed Dial Panels that can display with different colors and icons, information about the connected IP phone devices and users status.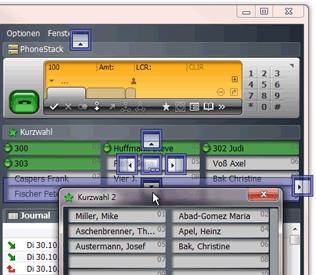 The Global Search function enables you to search simultaneously in multiple data sources within the application such as the Phone Book, Speed Dial Keys and Appointments. You can also create and use custom search filters and conduct your search by name, phone number, time or call status, using the search filter bar or the input line. You can also connect CTI Client with other applications such as Outlook™, Lotus Notes™ Access and other ODBC data bases in order to make phone calls within other applications simply by a mouse click, via URL, OCR or a preconfigured Hotkey.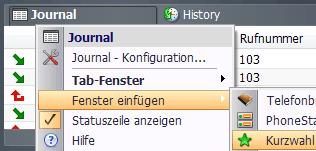 CTI Client offers a number of additional features like a Call Journal, Call Notes and Appointments. Allows you to make calls from e-mail phone numbers and also sends e-mail with call information to users. Supports network installation as well as terminal server installation, enabling users to share address data, notes and also to monitor the internal lines status (free/busy).
Program Versions:
CTI Client is offered in three versions according to the functions supported:
Light (free)
Standard
Professional
Hint: The Standard and Professional-version are based on the same installation (xtelsio_setup.zip). During the 30 day evaluation time period, you can test the full function scope of the Professional-version. If you acquire a license key later for the Standard-version, only the functions of the Standard-version will be activated.
Supported Functions

Version

Light
Standard
Professional

Telephony

- TAPI

(Dial, Drop)

x
x
x

- TAPI

(Answer, Consultation, Transfer, Toggle, Conference, Hold)

x
x

- TAPI

(Call Forwarding, Do-Not-Disturb)

x
x

- Redial

x
x

- CAPI Driver

x
x

- Voice Recording

(if you phone by ISDN card and Headset)

x

- Multiline

x
x

- ActiveX Control

x

- Outlook Add-In

x

- Search in PhoneDialog

3.x
- Dial from out of other applications by Hotkey


(The lite version is limited to 20 Actions per day.)

x
x
x

- OCR Dial by middle Mause Key

x
x

- Dial from out of other applications by TAPI-Connector

x
x

- Dial by URL

x
x

- TAPI Connector (TAPI Driver)

x
x
- Support for "Kuando™ Busylight"
3.x
integrated telephony drivers for

- Asterisk PBX systems

x
x

- IP desk phones of Yealink, Grandstream, Gigaset DX 800A, DX 600A, snom, Aastra/Mitel, Tiptel 31xx,

x
x

- Zoiper

x
x

- Skype

x

- SIP-SoftPhone

x

- xtelsio CTI Server

x
x

LCR (DE only)

x

- LCR Update

1x

Data Connectors

- Text Files (*.csv, *.txt)

x
x
x

- Load Text Files from Web Server (HTTP)

x

- Load Text Files from File Server

x
x

- Outlook

x
x

- ODBC (Databases with ODBC Driver)

x

- Lotus Notes (via ODBC Driver)

x

- ACT!-Contacts (readonly)

x

- combit address manager Contacts (only read access)

x

- cobra Adress PLUS Contacts (only read access)

x

- LDAP Data Sources (only read access)

x

- Limit of Records (Maximum Entries)

200

- Maximum Number of Telephone Books

1

- Data Import

x
x
x

- Data Import via Clipboard

x
x

Data Form

- Individual Adaptation of the Data Forms

x
x

Journal

- Maximum Entries per Day

10

- Log Calls in Outlook Journal

x

- Search Filter

x

Appointments

- Maximum Number of active Appointments

10

E-Mail

(Send via default e-mail client)

x
x
x

Speed Dial

x
x
x

- Monitor Bar

x
x

- Maximum Number of State LEDs

3
16
256

- Speed Dial panel based on CTI Server group

3.x

Presence management by CTI Server

3.x

Call Notes

x
x
x

- Document Hyperlinks in Call Notes

x
x

- Linked Notes (e.g. Outlook Memo Field)

x
x

Interworking

- transfer of Caller-ID to other applications via URL, command line parameters, Keyboard Control Sequence

x
x

- Word Document Templates

x
x

Create Setup

x
x

Search in Telephone Book

- Name, First Name

x
x
x

- Company, Phone Number, Group, ID, Search Filter, Full Text, MultiField

x
x

Global search window

3.x

Integrated browser window

3.x
​